Has your recreational park been sprayed ?
by Keith Loveridge
The Society has been campaigning for many years on the issue of pesticide (mis) use in urban environments. Three years ago, after intensive lobbying of Maroondah Council, we were successful in getting them to adopt a Chemical Use Policy. The Council Policy had a number of fundamental flaws, but we were confident that this was just the beginning of the end for cosmetic pesticide use in Maroondah and would mark a major milestone in the eventual phase out of these harmful chemicals in our local environment. Some of the concessions we extracted from Council during this time was to stop them spraying herbicides in children's playgrounds and around BBQ areas where people eat, to cease spraying herbicides in our gutters (using the road sweeping truck), and to train their employees in the safe use of pesticides. The three year campaign we fought with Council prior to the Policy being implemented was difficult and not without its setbacks. However, perseverance eventually paid off.
Well, it appears we are not alone in our endeavours and our stand has been well and truly vindicated by a number of developments in other places.
The Canadians have been very active in this area and to date a staggering 68 towns, ranging in size from Toronto (pop. 2.5 million), to towns smaller than Croydon, have signed up to the phasing out of pesticides from their cities. The province of Quebec (pop. 7 million) has a proposed ban on the cosmetic use of pesticides for all residents (see box p.6). On the 14th June 2004 the City of Montreal distributed 325,000 copies of a new brochure, Montreal Goes Pesticide-Free. The brochure is to inform Montrealers about the main provisions of the By-law concerning pesticide use, adopted on April 26, that will take effect almost everywhere in the city this year.
Photo taken from a public footpath!
This is what Dr. John Wargo professor of Risk Analysis and Public Policy at Yale University had to say about pesticides and children in 2003:
"There is broad scientific consensus that children are especially vulnerable to the adverse effects of pesticides. Children's low body weight and rapidly growing organ systems combine to make them more susceptible to many toxic substances, including pesticides."
"There is growing evidence of links between pesticide exposures and the risk of human cancers, including acute childhood leukaemia with home pesticide use and non-Hodgkin's lymphoma with exposures to herbicides," said D. Barry Boyd, M.D., an oncologist at Greenwich Hospital. "Of increasing concern is the potential role of pesticide exposure in low doses, as well as in combinations, to exert endocrine disrupting effects causing endocrine related cancers. The long-term risks of these exposures is a worry in vulnerable populations such as children and pregnant mothers."
And this from the Sierra Club of Canada:
"In another incident in Manitoba, a 13 km stretch of trees was wiped out by the chemical Roundup (a broadleaf pesticide, chemical name glyphospate) that was sprayed on nearby fields. Roundup is promoted by industry as a safe pesticide, despite the fact that it has proved to be far more toxic than its initial registration revealed." http://www.sierraclub.ca/national/programs/health-environment/pesticides/index.shtml

The latest research – April 2004
The Ontario College of Family Physicians has just released the most comprehensive study ever done in Canada, and possibly the most comprehensive research carried out anywhere, on the chronic effects of pesticide exposure at home, in the garden and at work. It is a frightening exposure of the dangers posed by some of the so- called 'friendly' 'safe' pesticides. The key points are reproduced below and the website address for the full research is at the end of the summary article.

Maroondah's Chemical Use Policy
The Maroondah Council Chemical Use Policy is up for review this month and the Society has contacted Maroondah Council to ensure we are part of the process. It is vital that the process of review is open and transparent and carried out by people who understand the issues. Maroondah Council has a unique opportunity with this review to implement a similar ban to that now being enacted in many parts of the world. There is an ever increasing awareness about the dangers posed by these insidious pesticides; chemicals that have no right in our urban environments, chemicals that can harm our children, and chemicals that can indiscriminately kill flora and fauna, whether targeted or not. Check out the Council's website for details of the Policy. http://www.maroondah.vic.gov.au
WHY??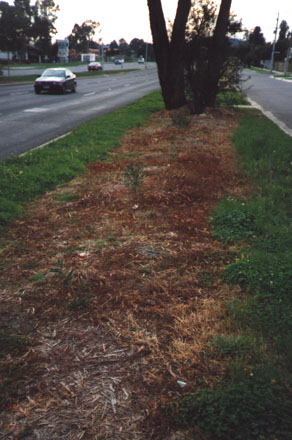 Comprehensive Review of Pesticide Research Confirms Dangers.
Family doctors highlight link between pesticide exposure and serious illnesses and disease; children particularly vulnerable.
TORONTO, April 23 2004 -The Ontario College of Family Physicians (OCFP) is strongly recommending that people reduce their exposure to pesticides wherever possible after releasing a comprehensive review of research on the effects of pesticides on human health. Released today, the review shows consistent links to serious illnesses such as cancer, reproductive problems and neurological diseases, among others. The study also shows that children are particularly vulnerable to pesticides.
The review found consistent evidence of the health risks to patients with exposure to pesticides. "Many of the health problems linked with pesticide use are serious and difficult to treat – so we are advocating reducing exposure to pesticides and prevention of harm as the best approach", said Dr. Margaret Sanborn of McMaster University, one of the review's authors.
Some Findings of the Review:
– Many studies reviewed by the Ontario College show positive
associations between solid tumours and pesticide exposure, including
brain cancer, prostate cancer, kidney cancer and pancreatic cancer,
among others.
– It is clear from the review that an association exists between
pesticide exposure and leukaemia. According to the College, the
implication of pesticides in the development of leukaemia warrants
further investigation and also, political action.
– The review team uncovered a remarkable consistency of findings of
nervous system effects of pesticide exposures.
– Occupational exposure to agricultural chemicals may be associated with adverse reproductive effects including: birth defects, foetal death and intrauterine growth retardation.
Pesticide Effects and Children:
Children are constantly exposed to low levels of pesticides in their food and environment, yet there have been few studies on the long-term effects of these exposures. Key findings include:
– An elevated risk of kidney cancer was associated with paternal pesticide exposure through agriculture, and four studies found associations with brain cancer.
– Some children have overall increased risk of acute leukaemia if exposed to pesticides in utero or during childhood, especially for exposure to insecticides and herbicides used on lawns, fruit trees and gardens, and for indoor control of insects.
What the Public Should Do:
Given the wide range of commonly used home and garden products associated with health effects, the College's overall message to patients is to avoid exposure to all pesticides whenever and wherever possible. This includes reducing both occupational exposures, as well as lower level exposures that occur from the use of pesticides in homes, gardens and public green space.
What Family Physicians Should Do:
In the wake of this systemic review, the College is advocating that family physicians take the following measures:
– Take patient pesticide exposure history when non-specific symptoms are
present – such as fatigue, dizziness, low energy, rashes, weaknesses,
sleep problems, anxiety, depression.
– Advocate reduction or pesticide risk/use to individual patients.
– Advocate reduction of pesticide risk/use in the community, schools,
hospitals and to governments.
The Ontario College of Family Physicians is a provincial chapter of the College of Family Physicians of Canada and is a voluntary, not-for-profit association that promotes family medicine in Ontario through leadership, education and advocacy. The OCFP represents more than 6,700 family physicians providing care for remote, rural, suburban, urban and inner-city populations in Ontario. The OCFP is the voice of family medicine in Ontario. At the heart of the organization is the building and maintenance of high standards of practice and the continuous improvement of access to quality family practice services for all residents of Ontario.
The OCFP Study is available on the Ontario College's website at http://www.ocfp.on.ca
We urge all residents of Maroondah to recognize that the benefits of a healthy population far outweigh the negative appearance of a few weeds. Please, think twice before spraying to try to achieve the perfect, weed free green lawn, and think about safe alternatives for insect control. You could very well be compromising the health of your family, and that also includes the family pet. Contact Maroondah Council and ask them to adopt a safe, pesticide-free City of Maroondah.
STOP PRESS:

June 7 2004 – WINNIPEG.CBC.CA News – Pesticides blamed for rising cancer rates
WINNIPEG – Doctors at a weekend conference in Winnipeg say there is a disturbing trend when it comes to the rising rate of certain cancers. They say pesticides are to blame for the increase – especially in childhood cancers.
Steve Rauh chairs the environment committee for the Social Planning Council of Winnipeg. He says 70 per cent of the toxins we are exposed to come from the foods we eat. He wants to see policy changes that would encourage organic farming.
"Our department of agriculture does not provide the kind of support to organic farming that it ought to be providing," he says.
The Canadian Association of Physicians for the Environment has taken a strong position against municipalities using pesticides.
Carbaryl
In a previous 1999 Newsletter we published information on the dangers of Carbaryl – an insecticide with uses such as control of elm tree beetles and fleas in animals. This is what we said then:
"Health effects:
Carbaryl is a known hormone disruptor and affects the nervous system in a complex way by inhibiting the normal function of cholinesterase, an enzyme crucial to the normal transmission of signals in the nervous system. The range of symptoms exhibited by people exposed to excessive carbaryl includes tearing of the eyes, nasal discharge, sweating, abdominal cramps, nausea, tremors, difficulty in breathing and convulsions. Laboratory tests show that carbaryl may cause birth defects in dogs and cancer in various test organisms. Animal immune systems are affected in a variety of ways, such as damage to bone marrow and lymphocytes. Carbaryl was identified by the Natural Resources Defence Council in America, as one of the pesticides that had significant data gaps, in other words there is insufficient data to make a full health hazard assessment.
Its use in Russia has been severely restricted as it is gonadotoxic, embryotoxic and mutagenic, persistent, causes impaired reproductive function and is likely to form the carcinogen n-nitrosocarbaryl. It is banned from use in Sweden, Germany, Austria and Denmark. In the U.K. its approval for use in and around homes and gardens was revoked in 1996.
Animal studies carried out in 1986 suggest that unlike organophosphates, carbamate compounds may present serious threats to the health of the developing foetus. Teratological effects are irreversible."
June 2004 – The regulator of pesticides in Australia – the APVMA – has finally responded to concerns about Carbaryl, albeit many years later than other countries, and has proposed changes to some of the uses of this ubiquitous pesticide. There is something inherently wrong with the current system, that it takes 9 years from when Carbaryl was first proposed for review to when the findings of the investigation are actually released for public comment. And remember that this pesticide was introduced in 1956!
Here are some of the recommendations and the accompanying press release. Remember to always check the label:
Use of carbaryl (all forms) is to be prohibited for indoor use on domestic premises, due to an unacceptable exposure risk.

Registrations of carbaryl based home veterinary dusts registered for the treatment of animals and birds are to be cancelled, due to unacceptable exposure risk.

Registration of a carbaryl based treatment for poultry is to be cancelled, because of the potential risk of residues in treated animals.

Registrations of carbaryl dusts for treatment of carpets, rugs and animal bedding are to be cancelled, due to unacceptable exposure risk.

Products for use in domestic/home garden situations are to be restricted to a maximum carbaryl concentration of 160 g/kg or g/L.

Products containing 800 g/kg wettable powder and liquids containing 400 and 500 g/L carbaryl for use in domestic/home garden situations are to be cancelled, due to an unacceptable exposure risk.

The use of carbaryl products on food producing plants in the home garden is to be cancelled, due to an unacceptable exposure risk.

The toxicological assessment identified that one carbaryl product (Joseph Lyddy Y-Itch Animal Insecticide Bactericide) contains a non-active constituent that is potentially carcinogenic and is classifiable as Schedule 7.
APVMA Media Release 0404, 9 June2004 –
Regulator proposes changes for popular agricultural and home garden pesticide
The Australian Pesticides and Veterinary Medicines Authority (APVMA) is recommending major changes to the uses of the common agricultural and home garden pesticide, carbaryl. A draft report providing detailed findings of the review of carbaryl is now available for public comment. Carbaryl has been used to treat insect pests in agricultural crops, the home garden, around buildings and on animals in Australia for many years.

APVMA Principal Scientist, Dr David Loschke, said 'We undertook the review because of our concerns over the risks posed to human health by potential residues of the chemical in foods. The APVMA was also concerned about possible risks to householders applying the chemical in the home garden and other domestic situations. Based on our assessment of all the scientific data collected as part of the review, the APVMA is not convinced that the continued use of carbaryl in certain situations is safe for people,' Dr Loschke said. 'The health of the public and workers is a key priority for us and we will not take risks with it,' he said.
The draft review report concludes that by cancelling some use patterns and tightening label instructions for other uses, the potential risks associated with the use of carbaryl would be effectively managed. The review recommends that many of the uses of carbaryl on fruit and vegetables be cancelled. The use of the chemical in its dust form including products for animals is also proposed for cancellation. However it is recommended that uses of carbaryl products on pastures, cropping and grain storage, in commercial or industrial areas as well as in domestic animal shampoos and eardrops can continue.
Natural sprays for the garden
Looking for some natural sprays to combat those pesky critters that have decided to spend their holidays in you veggie garden? Here are a few useful ones taken from various sources.
To combat powdery mildew, a mixture of one part cow's milk to nine parts water, sprayed on heavily infested plants twice a week is very effective. (Editor's note: this works a treat on snow peas and pumpkins)
Epsom salts spray – Dissolve 50g of Epsom salts (magnesium sulphate) with 4 litres of water.Spray on plants with leaves yellowing as if they have been attacked by a virus. Such plants are often deficient in magnesium which has been 'locked up' by overuse of wood ashes, lime or phosphorus. According to Judy Miller of the Hunter Organic Growers Society in New South Wales, Epsom salts sprayed or sprinkled on vegetables will keep away possums – by giving them the 'runs'!
Garlic spray – 85g chopped garlic bulbs and 2 teaspoons of kerosene. Soak for 48 hours, then add 60Oml water and 7g pure soap (not detergent). Strain through gauze and store in a glass or plastic container. To spray, dilute to 1 part in 100 of water.Developed by the Henry Doubleday Research Association, garlic spray kills aphids, cabbage white butterfly, caterpillars, mosquitoes, snails and wireworms. It also checks downy mildew and leaf spot in cucumbers and bean rust and blight. Garlic spray is available commercially.
Buttermilk spray – 1 tablespoon buttermilk mixed with ½ cup flour in 2 litres of water. This spray destroys adult spider mites and their eggs, which are enveloped in the sticky mixture and suffocate.
Fruit fly spray – 15 litres of water in which 1kg of sugar has been dissolved; add 1 litre sea-water (not water with added rock salt); add 1 litre of molasses; and add sufficient diatomaceous earth to make the mixture creamy. Spray several times when fruit fly is bad on fruit trees or tomatoes, also at bud and at flowering. Without diatomaceous earth the spray is good for aphids, curly leaf and codling moth. It has also cured tomatoes of wilt.
Soapy water – Mix 30g grated bar soap or 2 tablespoons laundry soap flakes (not detergent) in 1 litre of water and leave standing until dissolved. Strain. Spray to chase away or kill aphids, maggots, leafcutters, mealy bugs, red spider mites and whitefly. Add a teaspoon of mineral oil or kerosene for big infestations. Add soap to other sprays to make sure they cling to leaves, especially the undersides.
Vinegar – Pure vinegar is a very efficient herbicide and is ideal for spot spraying on paving. It is also very effective against oxalis and it is cheap.
We welcome any other alternative natural control methods. Please contact the editor klover10 at bigpond.com